Community Consultation – Green Waste  
( Questions-to-the-Community-Green-Waste Form )
While Kermit the frog once sang "it's not easy being green", Wagait Shire Council have been pondering how they can be green, managing green waste that is. Two options being considered are:
Council purchase large bale bags (approximately 1 cubic metre) and for a fee somewhere in the vicinity of $20, deliver the bags to a resident's property on an as required basis. The resident may keep the bag for a week or two to deposit leaves, grass clippings and smaller cuttings into the bag and when it is full, call council to collect and dispose of the waste. For large tree waste and a similar fee, residents may call council to collect and dispose of timber that has been cut into lengths no longer than 1.5 meters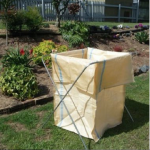 Council source drums that may be used as an incinerator and make them available for residents to burn their green waste on their property. Fire permits from the Fire Warden will be required prior to any burning.
Please provide feedback below.
Will you use either of these services if council were to provide them?
Bale bags  Yes                    Home incinerator  Yes     
Bale bags  No                       Home incinerator  No        
Do you have alternative green waste management ideas that may work for the community?
1 _____________________________________
2 _____________________________________
3 _____________________________________
Please deliver your paper copy feedback to the Council Office, post to Wagait Shire Council PMB 10, Darwin, NT 0801 or email to ceo@wagait.nt.gov.au by 30 October. You may remain anonymous or be included in a draw to win a $50 gift voucher from a supplier of your choice e.g. Wagait Supermarket, Cox Community Club, Woolworths, Bunnings, Auto Pro, Movie Cinema, JB HIFI etc.
To be eligible for the draw please include your name, address, phone and/or email below
Name: _____________________________________
Contact details: _____________________________________
Please see next page for some Wagait Shire Council Trash Talk.
Wagait Shire Council – Trash Talk
Here are some ways to reduce the amount of rubbish in your bins. With Christmas just around the corner you're going to need room for a whole lot more rubbish (and we don't just mean for those dodgy gifts).
Buy refills: liquid soap dispensers, sauce bottles
Buy rechargeable batteries. In fact, buy anything that can be reused
Purchase products that can be used for multiple tasks. Why, for instance, fork out for different cleaners for your toilet, shower and bench tops when an all-purpose household cleaner can keep them all just as clean?
Get your invoices and statements emailed to you rather than sent in the post.
Buy only as much fresh produce as you need. Food has this annoying habit of going off after a little while.
Hold a garage sale for anything you no longer want. Auction them off online, give clothes away to charity, toys to friends with kids and unwanted gifts to those who can use them.
******** Hard waste news ********
The three previous hard waste collections have seen residents depositing their waste into skip bins placed on the council property. Council is going to trial a kerbside hard waste collection for the next collection in December so residents will only have to place their hard waste out the front of their property. Items will need to by stowed in an orderly manner so they can be easily collected i.e. nails and screws placed in a tin and not deposited loosely on the ground.