2016 June/July Holiday Program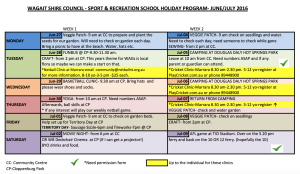 The Tiwi Islands trip was wonderful and enjoyed by all.
The Camp at Tumbling Waters Tourist Park was great.
During the School Holidays, some of the children along with Robyn attended the "Davis Cup".  See below a photo taken with Pat Rafter.
LAWN SALE
Robyn and the children of Wagait Beach held a Lawn Sale at our local supermarket to raise money to go towards the Tiwi Island Trip.  What a successful day day this was.  Thank you Chris and Sue from the Local Supermarket for allowing us to hold the stall at the shop.
PINK STUMP DAY – FEBRUARY 2015
Saturday 21st was the inaugural Wagait Beach Pink Stumps Day" with a relatively small turnout.  There was pink stuff everywhere!!  We ended up playing 9 a-side with 4 ball overs.  TEAM JAMES came up trumps making 70 runs with TEAM JORDAN L just coming up short on 54.  We didn't get to see the full potential of Shirley due too her early exit; which was a great shame as Shirl as the goods!  A great catch taken out in the deep.  The certificate for the "Best Family Effort" went to the "Bay-Vitski" mob with 5 representatives.  "Best Adult Effort" was awarded to James Arratta for his 41 not-out and 3 classic catches at silly mid-on.  And the "Best Junior Effort" went to the best water-boy this side of the equator in Tomasi Eaton!  We should have measured how many metres Masi covered during the match!  Well done to everyone!!  Our contribution to the "McGrath Foundation" for the day was $511.70.  Thank you to everyone who participated and helped out on the day.  Look forward to 2016 being bigger and better.
Robyn Presley – Sports and Recreation Officer, email sports@wagait.nt.gov.au